Introducing Domination Corporation
Northern Spark's third annual all-night arts festival took place on June 10th, 2017 a locations in the vicinity of Metro Transit's Green Line light rail stations, between Saint Paul and Minneapolis, including in Lowertown, home to the Union Depot light rail stop. This year's festival featured an interactive installation created by the Lowertown community, titled "Domination Corporation: Proudly Homogenizing America since 1984", to create a conversation about gentrification. The installation mimicked a city block that progressively closes its doors to artists as developers move in. The multi-disciplinary event featured tens of Lowertown artists, actors, musicians, and dancers. This page archives some of the material that was used in the piece, and offers photos from the night. • Nigel Parry
Global Gentrification Slideshow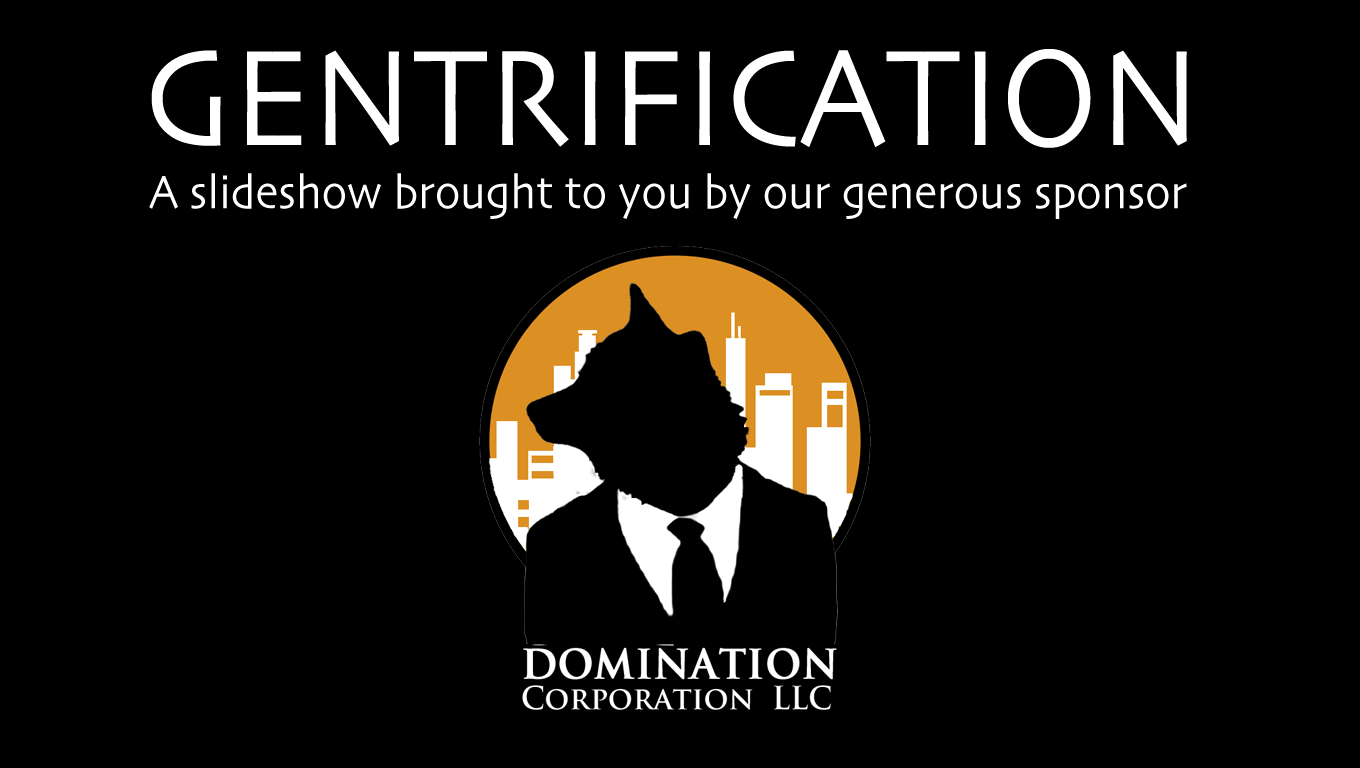 Click image above to open in new tab. Set browser window to fullscreen for best effect.
nigelparry.net created this hypnotic 15-minute-long, 5-part meditation on global gentrification for the Northern Spark installation. The visual similarity of the imagery of gentrification across the world is stunning. No sound, feel free to add your own soundtrack.
Images from the build and performance
Click an image to open up a scrollable, fullscreen slideshow.
Artist Statement
Jump into the timeline of an urban community and witness what happens when a predatory corporation enters the cultural ecosystem. Created by artists, musicians and performers from the Lowertown art community, Domination Corporation is a participatory installation that features a stage set replica of a city block complete with interactive storefronts. Over the course of the night the installation transforms, altering the way that viewers are allowed to participate. Using gentrification as a lens, Domination Corporation sheds light on the destructive nature of the "profit first" mentality that rules global economy and lends justification to the endless expansion of corporations. Significantly, this mentality has enabled cultural destruction through colonization and gentrification while simultaneously contributing to the destruction of the environment.
The project illuminates the interconnection of climate and culture and observes that healthy ecosystems and healthy social systems share a common organizational structure built on diversity. The goal of illuminating the parallel between culture chaos and climate chaos is to expose the shared thought pattern that underpins them both and spark a conversation about intersectional approaches to addressing the problem.
"Lowertown Speaks" video documentaries
Dave Bellmont's Kinostadt Films is a full service production company specializing in the documentary format. For Domination Corporation, Dave created "Lowertown Speaks: Changes in our Community", a series of short documentaries with six members of the Lowertown community under threat. Use the arrows in the video or use the thumbnails below to switch between artists.
Based in Minnesota, Director/Producer Dave Bellmont combines a journalistic sensibility with an eye for detail honed over two decades producing documentaries and music videos as well as award winning TV commercials for such clients as Target, 3M, General Mills, and UnitedHealthcare. Learn more at davebellmont.com.
Creators
Based in the historic Lowertown Arts District, Rage to Order is an artist led initiative that designs and stages interdisciplinary, community art events in St. Paul, MN. Founded in 2011, the initiative is spearheaded by Rachel Wacker and is maintained by a rotating roster of collaborating artists.
Tara Weatherly
is the principal dancer and co-founder of the performance group,
Sendero Flamenco
. In 2011, she opened Studio Sendero to share the art of flamenco through classes and collaborations. A resident of Lowertown since 2006, Tara serves on the Lowertown First Fridays Committee and is an active community volunteer.
Rachel Wacker
is a contemporary figure artist, curator and community-art facilitator. Since 2009, she has co-produced dozens of art happenings including: 100 Love Signs, The Jax Wake, Mears Park Muse and INSIDE OUT Lowertown. Rachel works for the St. Paul Saints as the director of the Saints' Community Art Initiative.
Contributing Artists & Performers
Ivory Doublette
Laura Mason
Rick Muelhbach
Zack Jones
Helen Chorolec
Michael Savage
Mike Ziegahn
Caroline Mecklin
Josh Intemann
Elaine Harries
Alex Kuno
Kristi Abbott
Kenneth Schweiger
Julie Peters Krohn
Michael McColl
Cynthia Urhich
Carl Atiya Swanson
Nick Barron
Pocket of Resistance
Maksha
Hot Date
Megatron and Friends
Sendero Flamenco
Dave Bellmont-Kinostadt Films
Sponsors
Lowertown Wine & Spirits
Master Framers
Black Dog Lowertown
Saints Baseball
Golden's Lowertown
Rage 2 Order