Special Feature: The JAX Wake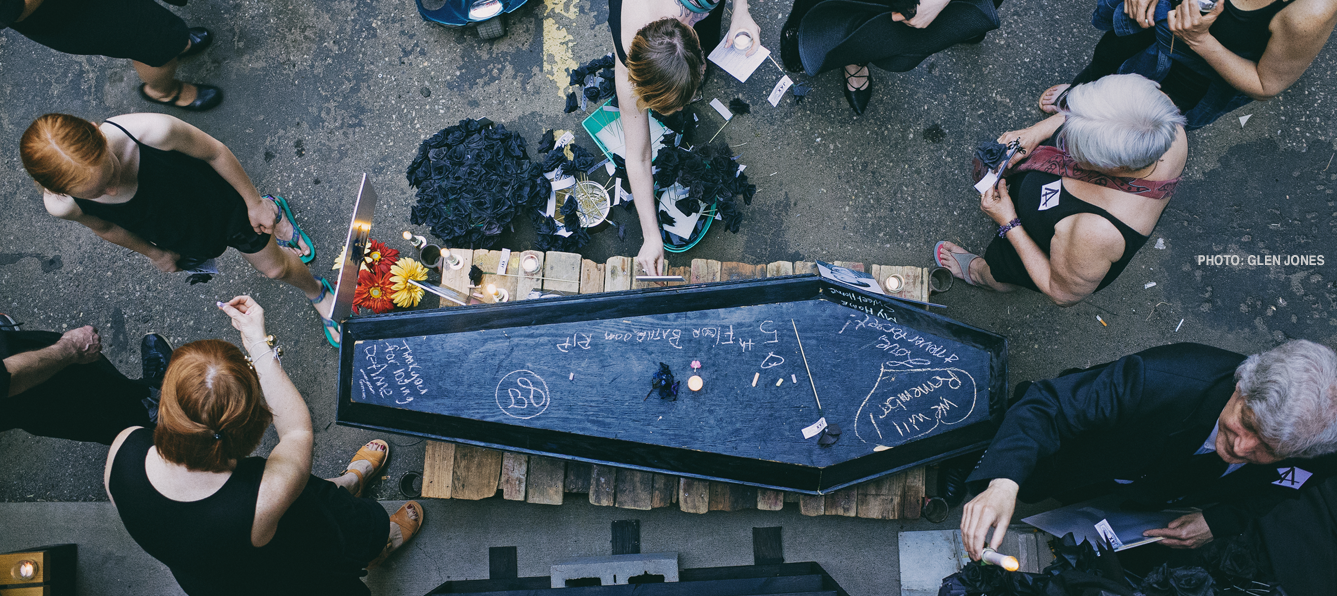 Press release
Death Announcement
THE JAX ART BUILDING
(1977-2016)
THE JAX, 39, of Lowertown Saint Paul passed away on April 30, 2016 after being fatally purchased for redevelopment.
With great sadness, the St. Paul art community mourns the passing of a beloved art space that played an integral role in the Lowertown art scene for 39 years.
Located at 253 E 4th Street in the historic warehouse that once housed Michaud Wholesale Grocers and The Jane Garrott Candy Company, The Jax provided affordable studios to artists and micro-businesses from 1977 until her passing.
The Jax is survived by her former residents including hundreds of working artists, Ballet Minnesota, Books for Africa, Sendero Flamenco, Songs of Hope, Practical Goods, The Lowertown Bike Shop, and The Show Gallery.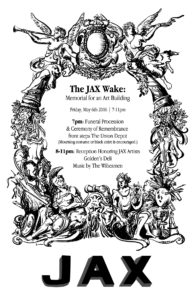 A memorial funeral procession is planned for 7pm, Friday, May 6 beginning at the Union Depot steps, 214 E 4th Street in St. Paul. Following the procession there will be a celebration in honor of the JAX artists at Golden's Deli 275 e 4th street, 8pm to close. Mourning costume or black attire is encouraged.
www.facebook.com/JAXart
facebook.com/JaxArtBuildingMemorial[ends]
---
Video: The JAX Wake, a #Lowertown gentrification memorial
The videos below were livestreamed from the event.
Words: Three Lowertown artists remember the JAX Art building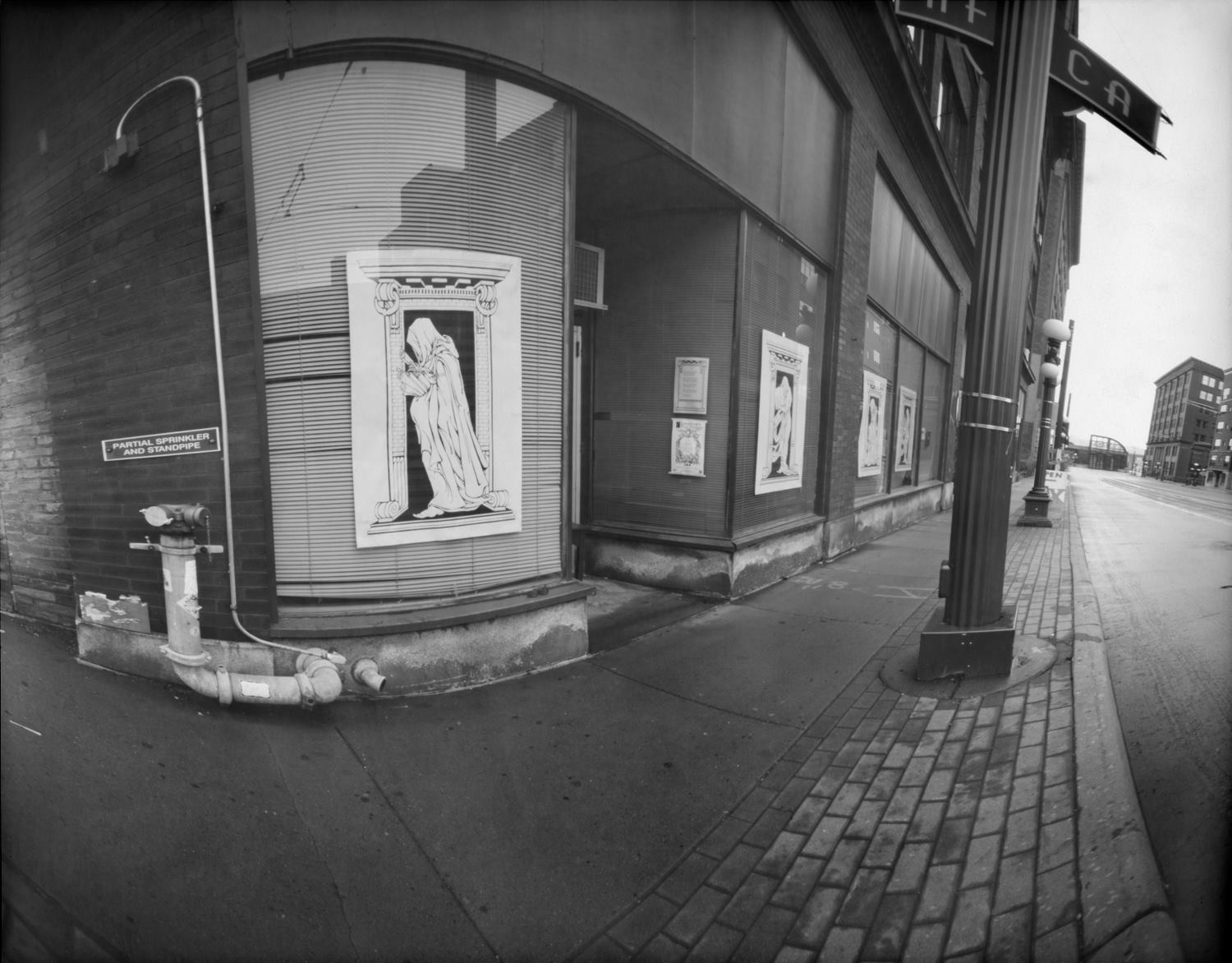 "JAX at Last, or Lowertown Gentrification." Pinhole camera shot of the JAX Building by Tom Miller. A four-panel series commemorating the loss of the JAX artists in Lowertown hangs in the windows, created by Lowertown artist Rachel Whacker.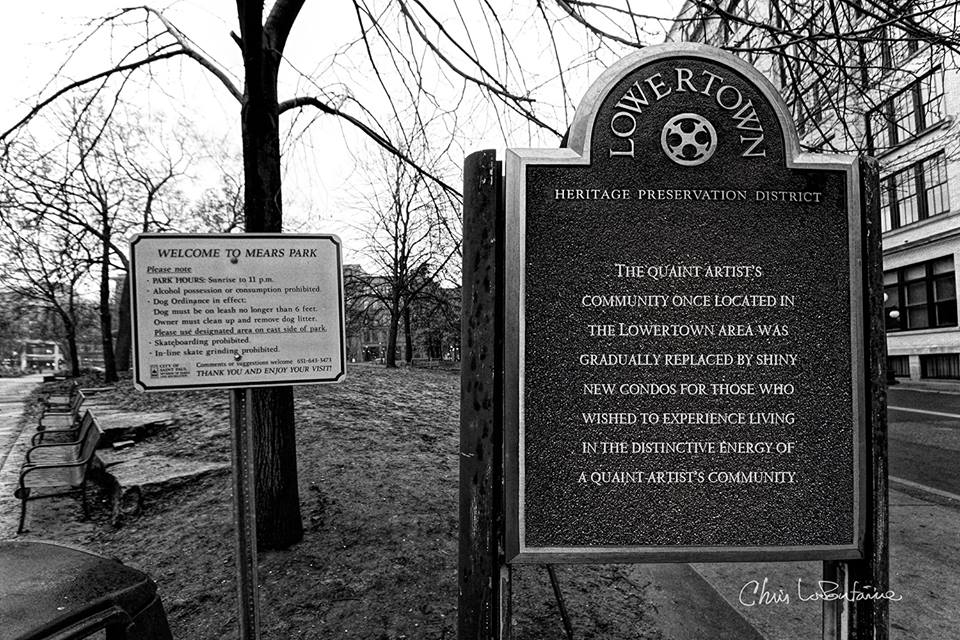 "I will be out of town for the wake, but I offer my sentiments on this memorial image"
Lowertown photographer Chris LaFontaine
Chris LaFontaine began experimenting with traditional photography and darkroom techniques in high school during the 1960's, eventually continuing his exploration while earning a BS degree in Photographic Engineering Technology from Saint Cloud State University. For 20 years Chris was in the photofinishing business as owner of Shutterbug, a small chain of stores based in Saint Paul, Minnesota. He is also a former member of the Lowertown Lofts Artists Cooperative, and enjoys being part of the vibrant art community of the Saint Paul area.
Media Coverage of the JAX Sale and Exodus
Lowertown's Jax Building, haven for artists, is sold for redevelopment, Minneapolis/Saint Paul Business Journal (November 16th, 2015)
Bruce Dayton's arts legacy; JAX Building, home of nonprofits and studios, is sold, MinnPost (November 17th, 2015)
Editorial: In Lowertown, a crawl, then a run, Pioneer Press (April 14th, 2016)
Artists exit Jax Building as Lowertown slowly transforms, Pioneer Press (March 1st, 2016)
Ballet Minnesota prepares to move on from St. Paul's Lowertown, Star Tribune (April 18th, 2016)
Ballet exits St. Paul's Lowertown as neighborhood tries to preserve artistic vibe, Star Tribune (April 21st, 2016)
A final Spring St. Paul Art Crawl for some, new districts for others, Pioneer Press (April 21st, 2016)
Artists say goodbye to the Jax in their final St. Paul Art Crawl, Pioneer Press (April 21st, 2016)
Saint Paul Art Crawl celebrates 25 years, says goodbye to JAX, City Pages (April 22nd, 2016)
Artists, nonprofits leave Lowertown's Jax Building, Finance & Commerce (May 2nd, 2016)
Lowertown artists hold memorial wake for the JAX Building, City Pages (May 5th, 2016)
Artists mourn St. Paul's Jax Building, creative Lowertown vibe, Star Tribune (May 10th, 2016)
---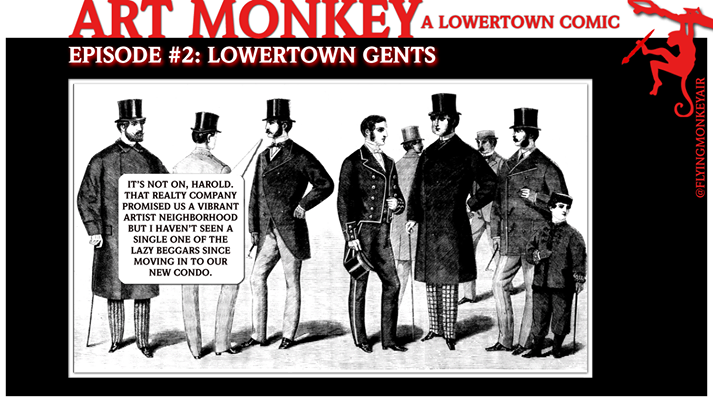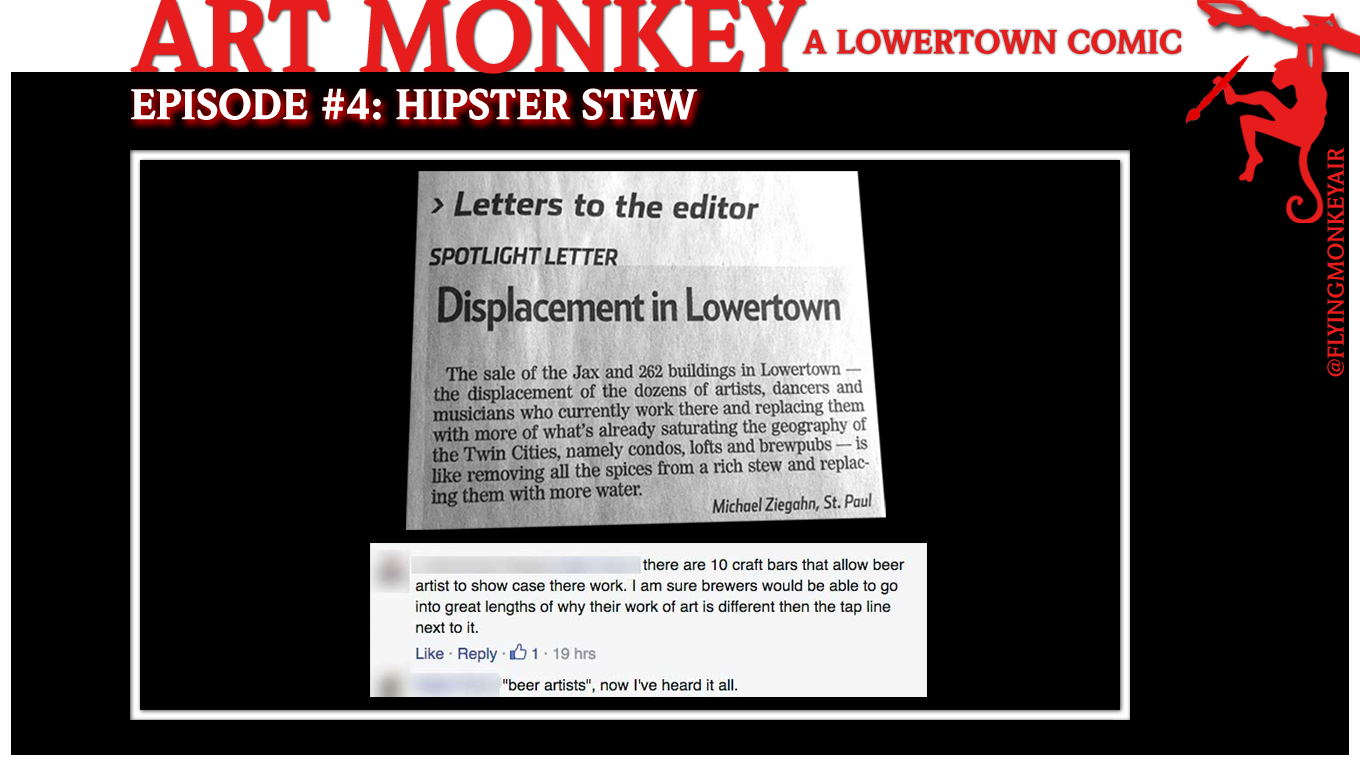 Help expand this community service
Please support the development of lowertown.info's mobile-friendly online guide, and help us increase our hard news coverage as the community faces tough changes—donate today!
Click here to donate